There's "Something Eternal" in LNCT's Production of Thornton Wilder's Our Town
Posted on March 25th, 2017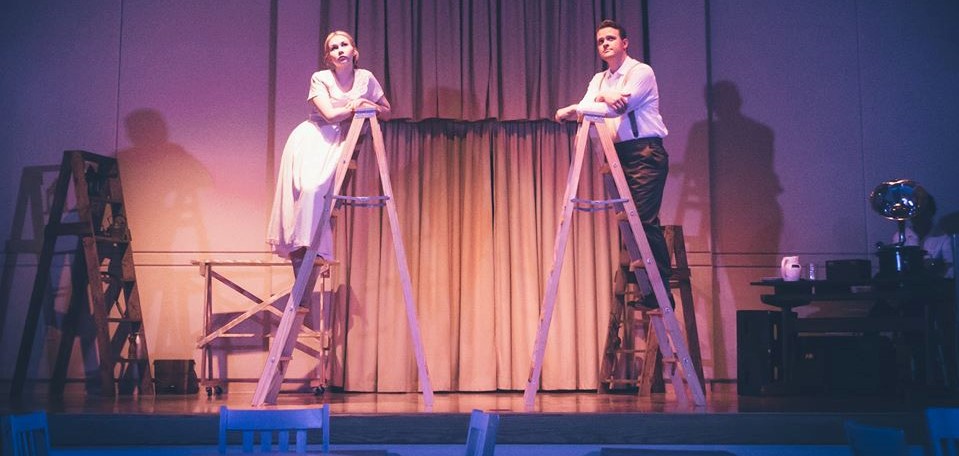 Laguna Niguel Community Theatre opens their production of Thornton Wilder's Our Town tonight at the Sea Country Senior & Community Center at 7 pm. The show runs today through Sunday the 26th and the next weekend from the 31st – 2nd. Tickets are on sale at the door and on their website: http://lagunanigueltheatre.org/tickets/
Founded by local theatre teacher Jeremy Golden and his wife Jennifer Golden, they state their mission as being "dedicated to producing dramatic art by, with and for the citizens of Laguna Niguel. We are a like-minded community of artists wishing to produce work that is artistically brave, morally responsible, and community-minded."
"Our Town was the perfect show for LNCT to produce as our first non-musical, because it so clearly represents the ideals that LNCT is trying to promote in our community." Co-Director Jeremy Golden says, "The show asks the audience to realize the wonders around us every day that we, in our fast-paced lives tend to not notice — to appreciate the little things and those around us.  In addition, we are excited to offer a very intimate theatre setting.  No audience member is more than three rows from the stage, and the thrust configuration with the audience on three sides allows patrons to take in the message in a tight community setting that draws them all together.  It is a moving theatrical experience that we hope everyone can experience."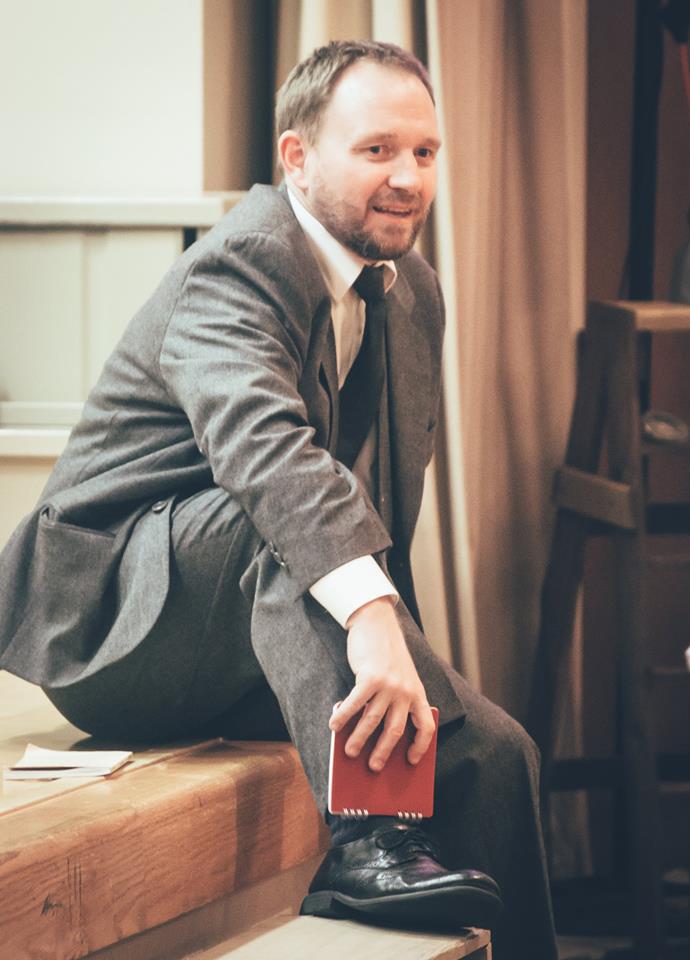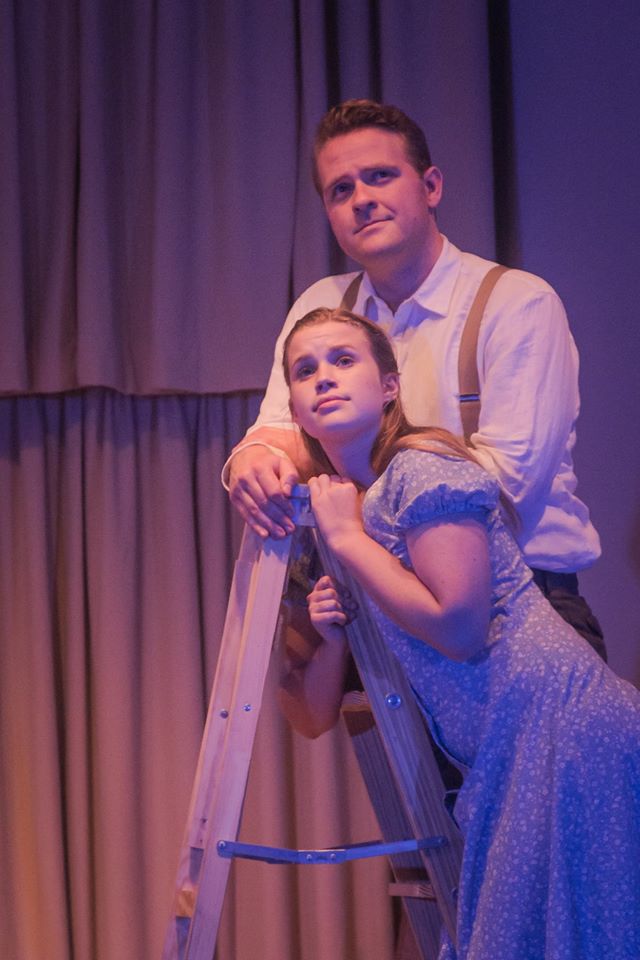 Our Town is a 1938 three-act play that follows the lives of the people in small town New Hampshire from the years of 1901 to 1913. Entirely narrated by a character called the Stage Manager (Jeremy Golden), Wilder's play includes minimal set design and no props; everything is pantomimed.  The Stage Manager is our omniscient narrator and guides us through the daily lives (and the deaths) of the citizens of Grover's Corners and provides commentary of the social norms of the early 1900s.
"Overall, I think it's been an amazing and rewarding process." Kassidy Ordish, the young actress who plays Emily Webb, commented. "Not only do I get to work with such talented and wonderful people every day, but the story is absolutely beautiful and has taught me so much. I really enjoy working with LNCT because you can really tell that everyone that is a part of it genuinely cares and loves what they're doing." From the beginning of the play, we watch Emily mature from a precocious teenager to an understanding adult. Ordish makes this transition effortlessly and commands the stage with impeccable skill and energy.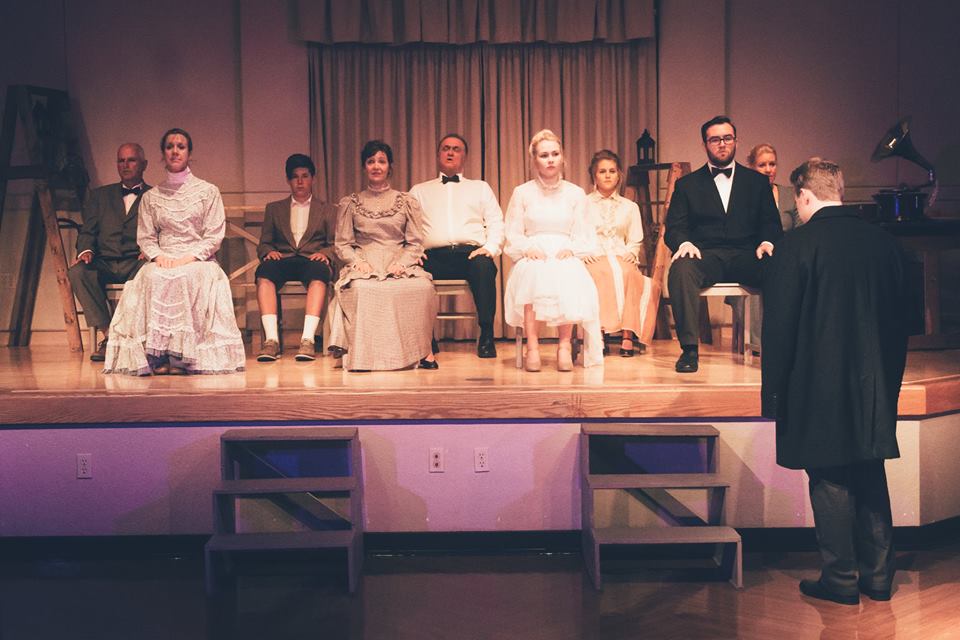 As I said earlier, the whole production contains zero props and all actions are pantomimed. This made Salina Chin's job as Sound Designer a little different than what she was used to. LNCT's production made use of the technique of live Foley, which is the creation of live sound effects usually used for radio shows or post-audio production on movies. Chin's workspace is a single table covered with everyday objects: glass jars, cups, books, bells, and newspapers. Even though the actors do not hold any actual props, we still hear the sounds of these items. If the Milkman comes up the street, we hear his bell and the clinking of milk bottles. This takes extensive practice and collaboration between Chin and the actors to time each sound correctly with its corresponding action.
Chin has this to say about the process: "Going into Our Town was a major readjustment on my part, mainly because I had never designed or done Foley before. One of our directors, Jeremy Golden, wanted to use live Foley for Our Town to juxtapose the lack of props and pantomiming done in the show. I didn't expect it to be that hard, but I soon realized that it was in fact, extremely difficult. I collected and found many of the props myself and began attending rehearsals early on in the process in order to start incorporating the sound effects into the show."
Even with the show opening in a matter of hours, actor Alexander Wilson (George Gibbs) states that he finds different "ah-ha moments" every night. "Something that is so special about this play Our Town is no matter how many times you read the script or even see the play, you can always discover something new and compelling about each and every one of the characters.  Every single person in this play has a story to tell and they are all so moving and real.  Almost every night I find myself hearing something for the first time or responding to what someone says differently;  It's all so fresh and that is what is fueling me and enabling me to react to what is going on around me on stage. I'm trying so hard to really 'realize life while [I] live it,' with this whole process.  This play has helped me to be present and to appreciate every moment not just on stage, but backstage also where we have all bonded and created friendships that will last a lifetime."
I personally have had the opportunity of working with Mr. Golden and LNCT and can say with assurance that they put on quality productions and that this show is no exception. Place take time out of your day to see this wonderful classic.
The company has grown from putting on a summer musical to providing theatre arts classes for kids to adults. More information can be found here: http://lagunanigueltheatre.org/education/#adultacting.
*Photography by Jeanette Ordish‎
by