ELKS AT WORK AND AT PLAY
Posted on April 2nd, 2017
Mission Viejo/Saddleback Valley Elks Lodge 2444 members along with the South Orange County Veterans Center played a role in the weekend visit of the Wounded Warriors Amputee Softball Team (WWAST) and the ballgame played at Saddleback college. The WWAST represents some of our nation's bravest and most determined heroes, soldiers and veterans. These men have sustained severe injuries resulting in amputation, and through extensive rehabilitation, they have become competitive athletes again, playing against able-bodied teams in exhibition games across the country.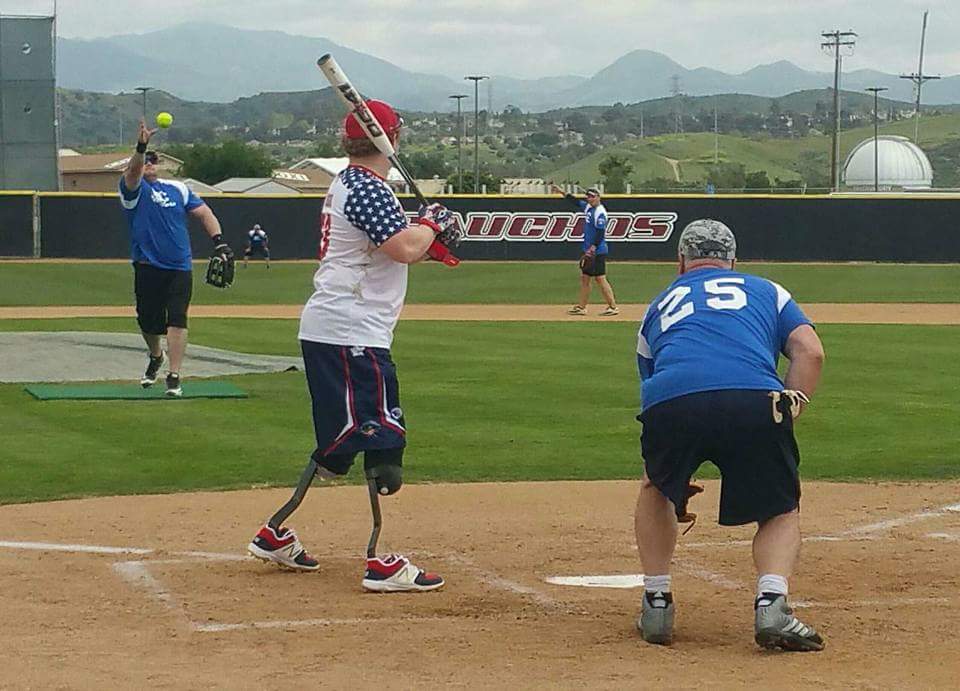 The busy weekend began on Friday when Elks Veterans Chairman Dave Perry and Elks members along with Jeff Andre of the South Orange County Veterans Center transported WWAST members from the Orange county airport to their hotel. On Saturday morning Elks members set up for a Veteran resource fair and then assisted as the wounded warrior amputee softball team played at Saddleback College. Elk members again helped on Sunday to transport the team to the airport. The successful event was a collaborative team effort of Mission Viejo/Saddleback Valley Elks, the South Orange County Veterans Center, the Orange County Blue Star mothers, Vet Net, the City of Mission Viejo, the office of State Assembly Member Bill Brough, and the office of State Senator Pat Bates.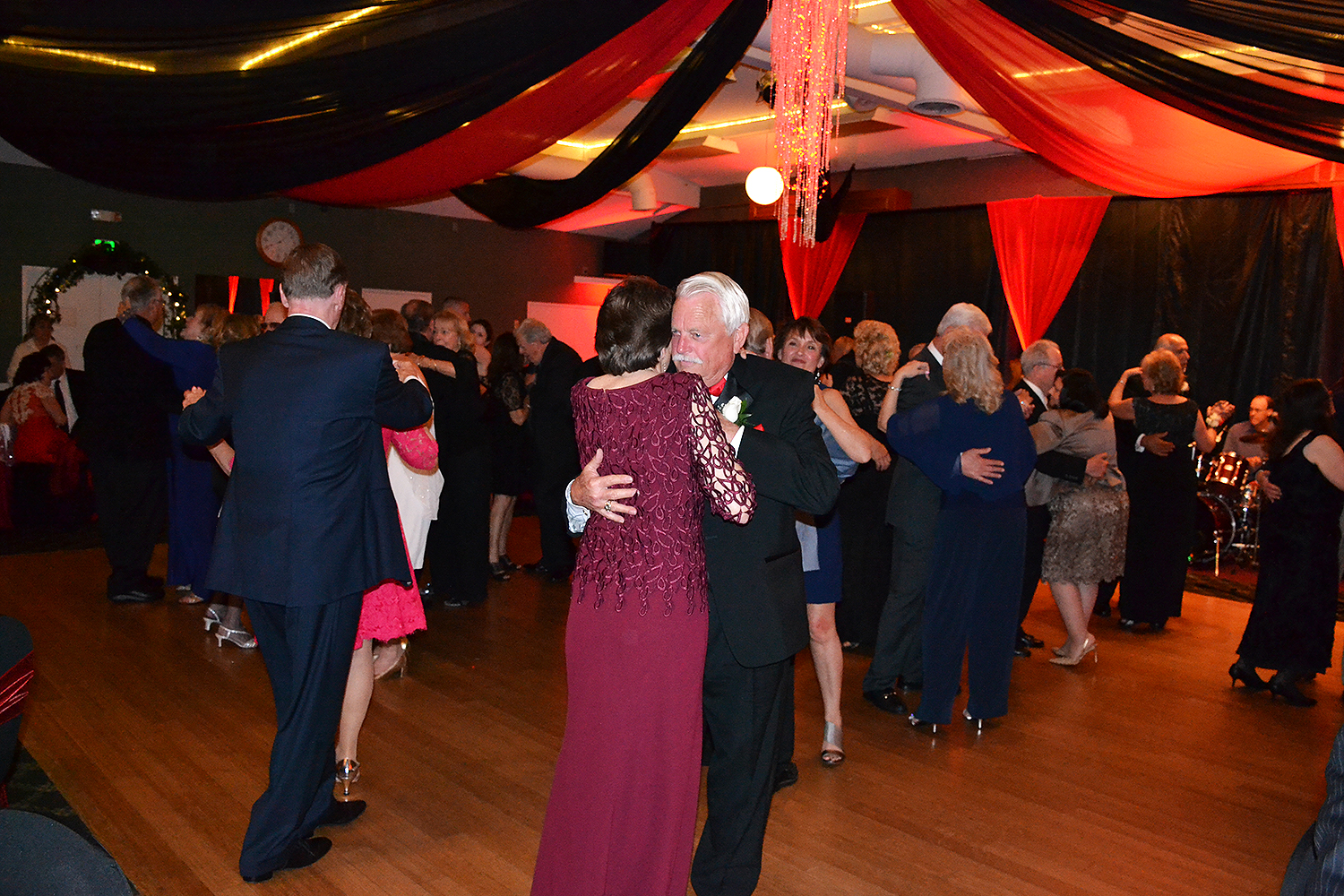 With the day's work done it was time for a celebration. On Saturday evening the Elks Lodge was the scene of a gala Inaugural Ball honoring the newly elected Elk officers for the coming year. The new Elk's Lodge President (Exalted Ruler) Mike Long and first lady Vicky Long were joined by Lodge members and visiting VIPs from the Orange Coast District  in celebrating the special event. Also honored were new Vice Presidents (Leading Knight) Mike Klinger with wife Judy, (Loyal Knight) Jamie Camunas with Melissa Miller, and Lecturing Knight, Jr Past Exalted Ruler Dave McLeod with One Year Trustee Marzina (Basia) Bills. The evening began with the traditional Grand March as eighteen (18) newly elected and appointed officers and spouses were introduced. The officers will serve in their new positions for a term of one year.
Exalted Ruler (Lodge President) Mike Long with his Chair Officers (Vice Presidents) Jamie Camunas – Loyal Knight, Dave McLeod – Lecturing Knight, and Mike Klinger – Leading Knight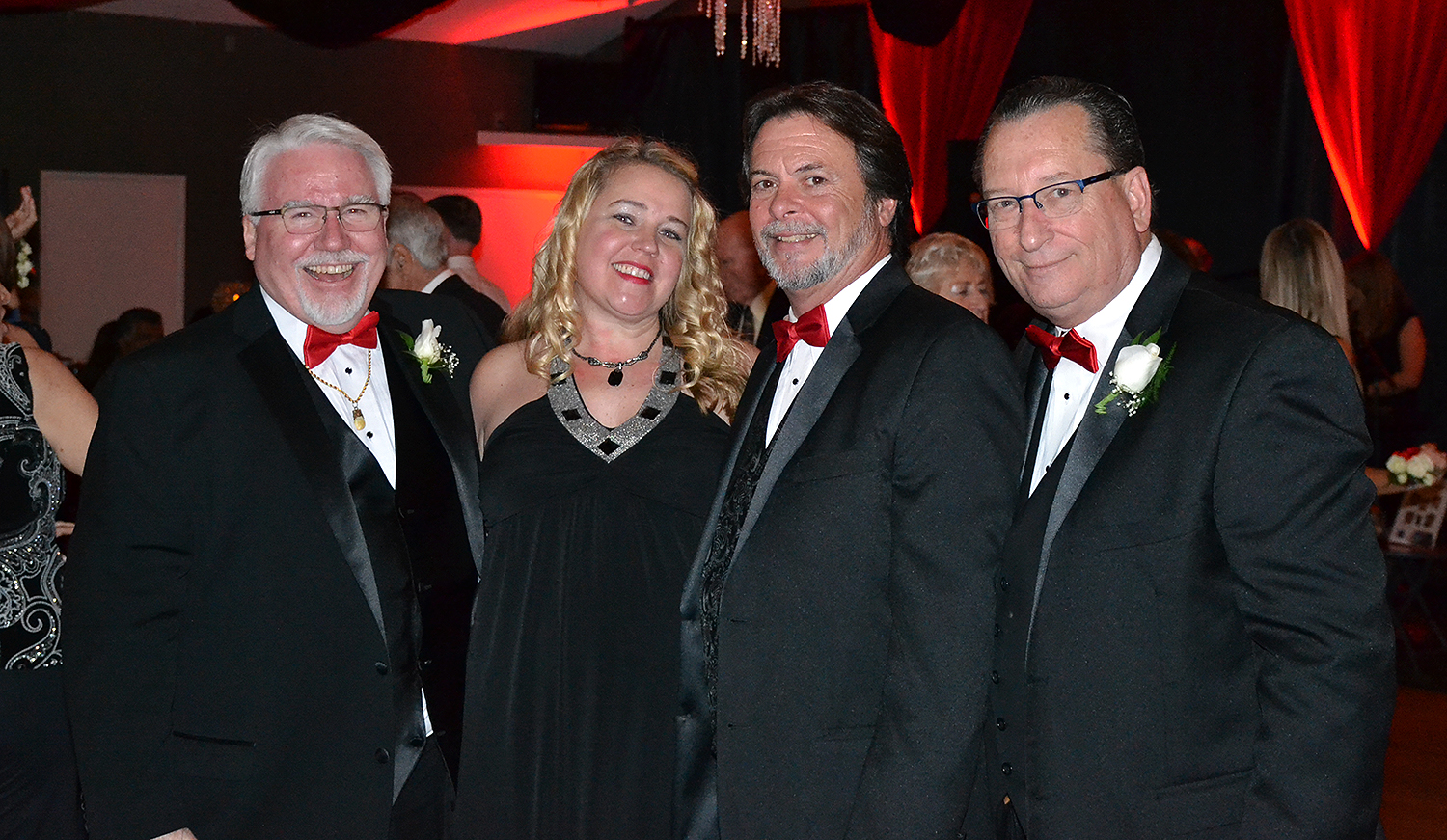 The Elks Lodge ballroom was decorated in an elegant black and red theme, lighted by a beautiful sparkling chandelier. The one hundred-twenty guests dined on Stuffed Beef Tenderloin or Chicken Cordon Bleu and topped it off with a decadent dessert of Bananas Foster all prepared by Elks volunteer chefs Dennis Boelts, Pam & Ed Mackey, Kevin Lindley, and crew. The servers were girls from Girl Scout Troop #261 who were given a donation from the Lodge for their service. Elk's Master of ceremonies for the evening was Elk's Past District Deputy, and newly installed five-year Trustee, Harvey Boelts. Dance music was provided by the band "Frenzy."
New Mission Viejo, Saddleback Valley Elks Officer Corps for the year 2017 – 2018

Many members and dignitaries from other Orange Coast District Lodges attended the event. Exalted Ruler Long greeted the guests and said his motto for the year is "Elks Building a Better Community." Long said he hoped everyone was enjoying the evening as much as he was, but was quick to remind members that it was "…right back to work tomorrow." with a full schedule of planned charity events.
Elk of the Month AJ Pompas, Sergeant Major 1st Battalion USMC, with wife Michelle and Exalted Ruler Mike Long
The Mission Viejo / Saddleback Elks Lodge No. 2444, celebrating forty-eight (48) years of service to the Saddleback Valley communities, is one of ten lodges in the Orange Coast District of the Benevolent and Protective Order of Elks (BPOE) whose headquarters is in Chicago, Illinois. The BPOE is a charitable organization with a one hundred forty-nine (149) year history of giving, "Elks Care, Elks Share."

Andy Costello
Grand Lodge Area 7
Public Relations & Marketing Committeeman
by