OC Interfaith Network Presents 'The More You Know, the Less You Fear' Community Forum Series
Posted on March 17th, 2017
Orange County Interfaith Network will present a first-ever community forum entitled, 'The More You Know, the Less You Fear.' The three-part series brings together distinguished community leaders and people of all faiths working to support and protect victims of bias, bullying, hatred, intolerance and injustice. There is no cost to attend and participants will be provided with tools and opportunities for community action.
The first session is 'ANTIVIRUS —Anti-Violent Ideology Recruitment in the United States' on Thursday, March 23 from 7:00 – 8:30 p.m. at St. Paul's Episcopal Church (1221 Wass St., Tustin). Nationally recognized expert Dr. Rushdi Cader M.D., F.A.C.E.P., will discuss online recruitment by terrorist and hate groups with its history and implications for Orange County.
Session two is entitled 'Backsplash of Hate —Who is your Neighbor?  And Why are They Afraid?'  Held on Thursday, April 20 from 7:00 – 9:00 p.m. at Church of the Foothills UCC (19211 Dodge Ave, Santa Ana), the evening will include a discussion of the realities, responsibilities and opportunities of living in a diverse society. Panelists of varied faith backgrounds and minority groups will explore the lack of civility in our community towards those of different faiths, backgrounds, citizenship status and sexual identity as well as realities, responsibilities and opportunities of living in a diverse society.
'Building an Action Plan' is the final session featuring a panel of distinguished Orange County leaders to discuss an individual's responsibilities, actions and strategies for addressing intolerance, bigotry and incivility. Speakers to date include Sandra Hutchens, Orange County Sheriff; Fr. John Taylor, LA Episcopal Bishop Coadjutor-elect;  Rusty Kennedy, CEO, Orange County Human Relations Council; Laura Kanter, Director of Policy & Advocacy LGBT Center Santa Ana;  and Asmaa Ahmed, Policy & Advocacy Coordinator, Council on American-Islamic Relations. This session will be held on Tuesday, May 2 from 7:00 – 9:00 p.m. at Fish Interfaith Center at Chapman University (One University Drive, Orange).
For more information about Orange County Interfaith Network or to register for the Community Forum series, visit www.ocinterfaith.org.
About Orange County Interfaith Network
Orange County Interfaith Network (OCIN) incorporated as a nonprofit organization in 2011 based on three key areas Support, Educate and Empower. They support all faith traditions by serving as a catalyst for greater understanding, serve as an educational resource for various religious beliefs, rituals and customs, empower Orange County's independent interfaith efforts by facilitating communications and providing support of their missions and coordinate and support resolutions of cultural and faith-related misunderstandings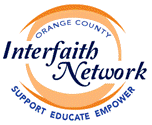 by