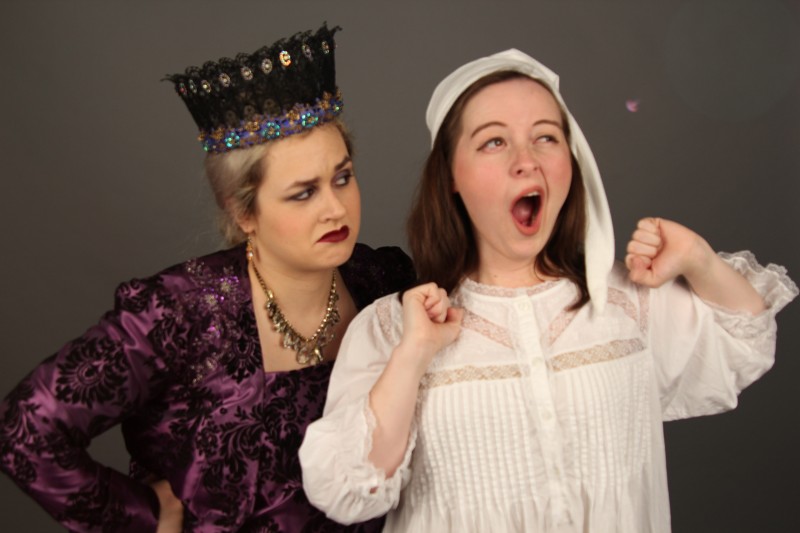 Saddleback College opened their spring musical Once Upon A Mattress, directed by John-David Keller, yesterday evening to great success. The 1959 musical is a comical and whimsical retelling of the timeless fairytale The Princess and The Pea which was also Carol Burnett's first breakout role. Saddleback's production features a technicolor, rotatable set straight out of a storybook. "Mattress is a musical of the late 1950s. It has melody, rhythm, delightful lyrics and a play that is part of everyone's childhood," Keller states in his Director's Note. The show runs April 7, 8, 13, 14, 15 at 7:30 pm and two Sunday matinees, April 9, 15 at 2:30 pm.
The show includes a quirky cast of characters and interwoven subplots that add dimension to the classic fairytale:
The story takes places in a stereotypical medieval kingdom that is ruled by a dastardly Queen (Allie Crupi), who will stop at nothing to make sure her son Dauntless (Conor Shaw) never comes to power. The Queen devises impossible tests to weed out "genuine" princesses. Because of the aforementioned impossibility of these tests, no one has ever passed. On top of this, no one in the Kingdom can marry until a suitable wife for Dauntless is chosen. The townspeople's increasing urgency to find a princess for Dauntless and the entrance of an unconventional heroine, Princess Winnifred (Stephanie LeHane), propel our story into action for a night of music, dance, laughter, and hijinks.
LeHane's portrayal of "swamp lady" Princess Winnifred kept audiences at the edge of their seats. Her physical and eccentric performance commanded the stage and her powerful voice took us through classic show tunes such as "Shy." With impeccable comedic timing and charisma, she left us wanting more from the princess named "Fred." Along with his co-star, Shaw shined as the naive and comical prince Dauntless, delivering hysterical one-liners and childish mannerisms.
The lovable duo Sir Harry and Lady Larken, portrayed by Ricky Alleman and Devon Watson, showed wonderful chemistry and vocal expertise in musical numbers such as "In a Little While" and "Yesterday I Loved You." Alleman's portrayal of the handsome, somewhat egotistical, knight paired well with Watson's sweet and innocent voice and stature.
Allie Crupi and Paige Vanderwarker portrayed another great onstage duo as the Queen and the Wizard. Crupi's deadpan portrayal mixed with Vanderwarker's charismatic and energetic presence made for quality entertainment. Vanderwarker's portrayal of the "showman turned court Wizard" was one of the best onstage.
One of the subplots involved the friendship of The Minstrel (our Narrator of sorts), The Court Jester (who longs for the good old days of showbusiness) and King Sextimus the Silent. As the Minstrel, Jeremiah Lussier's beautiful tenor voice and rich timber wonderfully opened the show with the number "Many Moons Ago." Christopher Shonafelt's silent but energetic and amusing portrayal of the cursed Silent King kept audiences laughing throughout the show. Mason Burt's portrayal of the sentimental Court Jester wowed audiences with his dance number "Very Soft Shoes."  
All and all, Saddleback's Once Upon a Mattress is sensational and worth watching. Don't miss it!
by